The innovative full-fledged telemedicine
platform for accessible and affordable healthcare anytime, anywhere
We empower
hospitals
and
healthcare providers
to provide comprehensive telemedicine services with high-quality, patient-centric remote consultations for their patients via real-time video conferencing.
HANA helps hospitals and organizations sustainably scale their telemedicine footprint to better meet the unique needs of their market.
Optimized for Mobility
With accessibility in mind, we have made HANA extremely simple and easy to use for both clinicians and patients.

Free for Setup
We believe cost shouldn't be a barrier to telemedicine. That's why HANA is free for setup, and we only charge you on the pay-per-minute basis

HIPAA-compliant
Rest easy knowing your data is secure. We meet industry-defined requirements for protecting and securing sensitive healthcare information.
Why Telemedicine?
Telemedicine is applicable to most practices and specialists for remote patient consultations, second opion, and routine care. From general physicians to dermatologists, eye doctors, allergists, physical therapists, and many more, patients are receiving uncompromising care from the comfort of their homes.
SIMPLIFY ACCESS TO CARE
Improve Patient Satisfaction
Patients are looking for convenient, quality care they can trust. Telemedicine eliminates geographic barriers to care and appeals to today's convenience-driven patient population. Patients now have the flexibility to receive high-quality care from the best doctors anytime, anywhere without wait times often involved with the hospital and clinic visits. All of this means better patient satisfaction and increased patient retention.
INCREASE REVENUE
Consult Your Patients Anytime, Anywhere
With telemedicine visits, transportation, child-care and work-related issues are less likely to keep patients from no-shows and last-minute cancellations. Whether your patients are in front of a computer or a smartphone, our cutting edge technology allows you to conduct telemedicine consultations in crisp detail with less burden on administrative staff and overhead costs.
PATIENT PRIVACY
Scale with Security in Mind
HANA is a purpose-built telemedicine technology, rather than consumer grade video conferencing options like Facetime or Skype. We've gone out of our way to make sure that we meet and exceed the HIPAA compliance to keep your patient information safe, so you and your patients are protected.
Key features
With HANA, you can provide more flexibility in the way you practice telemedicine. Whether you're conducting remote consultations or second opinion, we've just made it easier and easy to use anytime, anywhere.
HIGH QUALITY VOICE/VIDEO
HANA features high quality HD video and audio to ensure you and your patient have the best experience possible.
REAL-TIME PHOTO TAKING
If you love using books, flashcards or objects but aren't sure how to fit them into your sessions, we've got you covered. Simply use the device camera to take photos and share with your patients instantly.
SESSION HISTORY
HANA automatically keeps track of every session so you can rest assured with full legal compliance, transparency and open verification.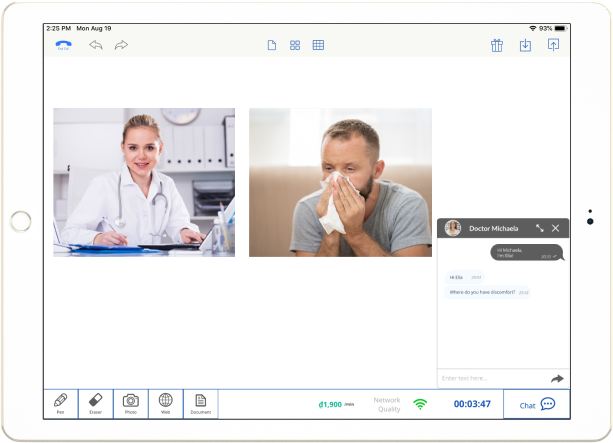 TWO-WAY SRCREEN SHARING
Real-time two-way screen sharing feature allows clinicians to share their desktops, websites, powerpoint presentations and online resources.
INTERACTIVE WHITEBOARD
HANA offers endless possibilities for telemedicine sessions with drawing, painting, highlighting and much more! Use it for explaining concepts, problem-solving, exercises or therapeutic activities.
POST-SESSION DOCUMENTATION
Keep an up-to-date record of your patient' progress by saving notes after each session. Your notes are not visible to the patient and are stored securely.
Customers and Partners
We have helped multiple hospitals and health organizations expand their telemedicine services and really make a great difference in terms of patient care and convenience.
Give your patients better healthcare today!
Start with HANA to provide unparalleled telemedicine services we know they deserve.
Subscribe to newsletter
Not on the list? Subscribe now!